202221sep8:45 am7:15 pmEvent OverAll Aboard: See creative attractions close to you8:45 am - 7:15 pm 42 Market Place, Bishop Auckland DL14 7PB Event Organized By: Create North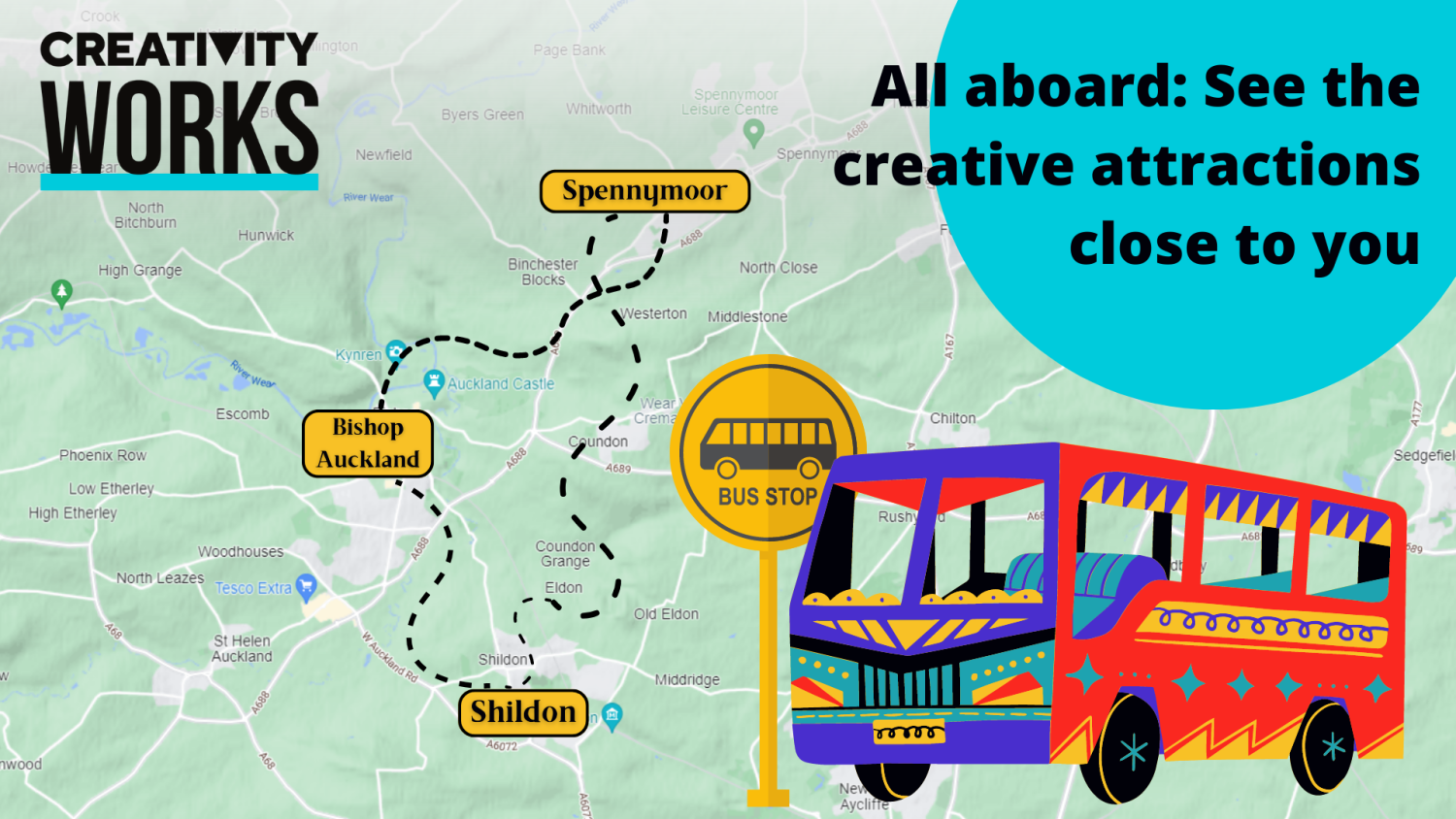 Event Details
Join Create North bus for a day-long exploration of the cultural and creative jewels of Spennymoor, Shildon and Bishop Auckland. This unique experience offers a mix of guided tours and creative workshops as we travel by bus to visit local cultural attractions: No. 42 Market Place > The Spanish Gallery > Bishop Auckland Castle > Bishop Auckland Town Hall > Spennymoor Town Hall > Locomotion
Meeting for breakfast at No. 42 Market Place, the team at The Auckland Project will then guide us round the Spanish Gallery and Castle, before a tour of the Gallery in Bishop Auckland Town Hall. Everyone hops on the bus to Spennymoor Town Hall for a spot of lunch, a tour of the Art Gallery and a fantastic creative workshop led by artist Betty Brown. We then head over to Locomotion to explore the exhibitions before a second workshop, this time led by artist Alison Curry, and tea. One last journey back to Bishop Auckland, where you can head home full of inspiration and creativity!
This FREE event if for people living South Durham and includes breakfast, lunch, and tea.
The Workshops
Workshop 1: Harry the Amazing Dancing Spider, led by Betty Brown.
Workshop 2: The Mad Hatters Tea Party, led by Alison Curry.
The fully-funded opportunity to participate in this workshop is for people living and working South Durham.
Time

(Wednesday) 8:45 am - 7:15 pm
Location

42 Market Place

Bishop Auckland DL14 7PB
RSVP Now
RSVPing is closed at this time.
Can not make it to this event?Change my RSVP