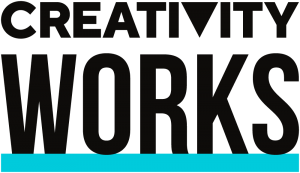 Creativity Works (North) is a Community Interest Company based in County Durham and working throughout the North East of England. Our overarching aim is to address inequalities in the creative and cultural sector in relation to engagement, talent development and access to career opportunities and the decline in representation of individuals from working-class backgrounds and marginalised communities in the arts and cultural industries.
In 2022, Create North delivered a new project called Creativity Works – a creative enterprise development programme that provided opportunities for creative people and creative businesses in South Durham to engage in activities in partnership with major arts organisations located in the area. The programme created opportunities for people interested in using their creative skills to develop a career for themselves. Participants were able to work alongside successful artists,  draw upon the expertise of curators, commissioners and cultural engagement officers, engage new audiences, build relationships with cultural venues, develop entrepreneurial capacities and skills and access creative enterprise development programmes.
The Create North team loved the project. We met so many talented and passionate people in one corner of County Durham, and were inspired to explore how we could extend this work in the future. At the same time, we read an article in the Guardian that read 'Huge decline of working class people in the arts reflects fall in wider society.' We felt that something had to be done to open up the possibility of creative careers to people from disadvantaged and underserved areas, and that our Creativity Works project would be able to help. So, Jane, Rob and Kate established a new Community Interest Company in 2023 called Creativity Works North.
We want to work with and support:
Individuals in the North of England, particularly those from disadvantaged and marginalised communities who would like to access creative activities to improve their creative, emotional, physical, social and economic prospects.
3rd sector organisations wanting to use culture and creativity as a means through which to deliver creative, emotional, physical, social and economic benefits for their beneficiaries.
Arts, cultural and heritage organisations who want to reach audiences that historically have lower engagement in creative activities or have had more limited access to the arts.
We will:
Create opportunities for people from disadvantaged communities and marginalised groups to access the arts, develop artistic and creative skills sets, acquire industry-specific know-how and know-who and build creative careers.
Work with cultural, arts and heritage organisations to reduce the barriers to engagement by disadvantaged and marginalised groups and address the lack of a diverse workforce across the creative sector.
Our activities will include:
Creative talent development opportunities, such as creative skills workshops, creative mentoring, peer-to-peer critiquing, showcasing, and arts award certification.
Opportunities to develop creative sector-specific know-how and know-who, through networking events, brokering cross-sector partnerships, relationships development, information cascading, and signposting.
Professional development programmes, such as paid internships, creative apprenticeships, creative entrepreneurship workshops, access to research and development opportunities, coaching and consultancy.
Audience engagement projects (such as exhibitions, festivals/events and participatory workshops) and strategic audience development support.
Research initiatives and showcasing best practice
For more information about Creativity Works, please email us at info@createnorth.co.uk