You are a painter, a writer, a maker of music and dance, a maker of stuff… a creative doer.
Where do you take your inspiration from? If you live or work in South Tyneside, you might be giddy with inspiration because this water-edged corner of England is crammed with natural, historic, and cultural riches. Many of the most familiar are represented in music, folk tales and visual arts, many others are little known and yet to be explored.
But what about adding a new creative twist to these riches to produce something saleable?
That's what Make the Most of South Tyneside is about.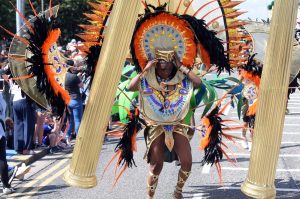 The local Cultural Partnership Group and Create North are hooking up to host a programme of events for artists, creative practitioners, and creative micro-business to get together to explore how we can all, individually and collaboratively, benefit from making the very most of South Tyneside's assets. There are so many assets that we'll explore the possibilities through four overlapping themes: coast, river, towns and villages, heritage – you'll have your own take on what they mean to you but here's a starting point for digging deeper:
Coast
A place to wield a geological hammer, explore industrial and maritime heritage, show off rare wildlife, highlight the environment and the biodiversity or entertain the crowds on fantastic beaches.
River
The Tyne. The river: the one that provided the coals that fuelled the industrial revolution and a place of rich maritime history, manufacturing and shipbuilding.
Towns & Villages
From quiet rural outputs to industrial powerhouses, from those known to few to those that stirred the whole nation.
Heritage
The works: from what the Roman's did for South Tyneside to the birthplace of English history, to the creation of a modern identity, taking in folk traditions, the built environment, and diverse communities and trades.
What's On
There will be 5 events in all. Each event will be festooned with opportunities to spend time with other creatives and build your networks, and each day will have its own flavour and mix of focussed exploration and specialist expertise.
These events are FREE but places are limited, so book early to avoid disappointment!
11th March: Make the Most of the Coast, Souter Lighthouse
17th March: Make the Most Of South Tyneside, Customs House
25th March: Make the Most of the River, Customs House
5th April: Make the Most of our Heritage, Jarrow Hall
26th April: Make the Most of our Towns & Villages, South Shields Museum
Over the course of the programme you will:
Explore the potential of the four themes to inspire new creative and commercial opportunities
Generate ideas for creative products and services with differentiated audiences in mind
Find out how other artists pursuing similar lines of creative enquiry have successfully developed their practice and new income streams
Develop entrepreneurial know-how to critique and exploit ideas
Link with creative and commercial networks that may add value to your propositions
Find out about funding opportunities
Meet representatives of the major cultural and creative organisations in the area
Find out from local commissioners about upcoming commercial opportunities
Create North is one of the region's longest established creative enterprise support organisations which has helped hundreds of people to establish and build creative ventures.